The "Liquid Face Lift" Featured in Harper's Bazaar
Published on September 4, 2009 by
Mark Mandell-Brown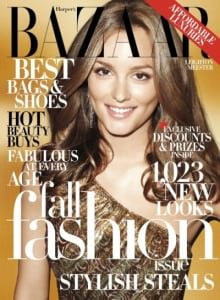 The so-called liquid facelift has once again been featured by a national media outlet. Harper's Baazar recently posted an excellent article that outlines the pros and cons of all the latest wrinkle fillers. The Best Beauty section of the September issue includes before and after pictures and a discussion of professional techniques for administering injectables.
The idea of a liquid facelift isn't exactly a "touch up" here and there, but a relatively extensive series of injections intended to achieve results similar to a surgical facelift, yet the results are "typically more subtle than surgery." According to the authors, you can expect to pay at least $3,000 for a full liquid facelift. A Florida dermatologist by the name of Dr. Fredric Brandt explains, "I resuspend the face with Botox, lifting up the brows, neck, jawline, and tip of the nose and then fill in and replace volume around the eyes and cheeks." Some of the products and procedures discussed in the aforementioned article include Juvederm, Restylane, Perlane, Botox, Sculptra, and fat transfer.
The liquid facelift has also been featured on The Doctors (NBC), Rachel Ray Show, New Beauty Magazine, Dr. 90210, FOX News, Cosmetic Surgery Times, and more exposure is said to be in the works.
For more information, you might want to view www.liquidfacelift.com or contact us at the office of Dr. Mandell-Brown.