Dr. Mark Mandell-Brown
Triple Board Certified Plastic Surgeon
Specializing in facial plastic surgery and body cosmetic surgery in Cincinnati, Dayton, Centerville, Ohio, Kentucky & Indiana
Dr. Mark Mandell-Brown, director, has over 25 years of experience as a cosmetic surgeon. Realizing that modern advances have altered the ability of one physician to do everything well, our staff has sought additional extensive training to enable the patient to truly benefit from an expert. Dr. Mandell-Brown specializes in Facial Plastic Surgery and Body Cosmetic Surgery.
With the advent of the internet, so much information is available on facial plastic surgery and body cosmetic surgery that it is difficult to separate myths from facts. At the Mandell-Brown Plastic Surgery Center, we are dedicated to helping those interested in plastic surgery to get the facts about cosmetic surgery and understand the benefits, risks, and alternative options.
What really elevates Dr. Mark Mandell-Brown above his peers is his "Natural Look" cosmetic surgery where he specializes in making his patients LOOK BETTER but NOT DIFFERENT. His before and after gallery captures this ability and has earned the trust of patients near and far. He is truly considered an EXPERT and regularly teaches other plastic and cosmetic surgeons both nationally and internationally. He is nationally recognized for Rhinoplasty surgery.
The Plastic Surgery Experts at the Mandell-Brown Plastic Surgery Center
Now available at The Mandell -Brown Plastic Surgery Center— the latest in Hot Sculpting to melt fat and tighten skin. Why freeze with CoolSculpt when you can heat with True Sculpt ! More comfortable and no down time
Triple Board Certified Plastic Surgeon
Mark Mandell-BRownmd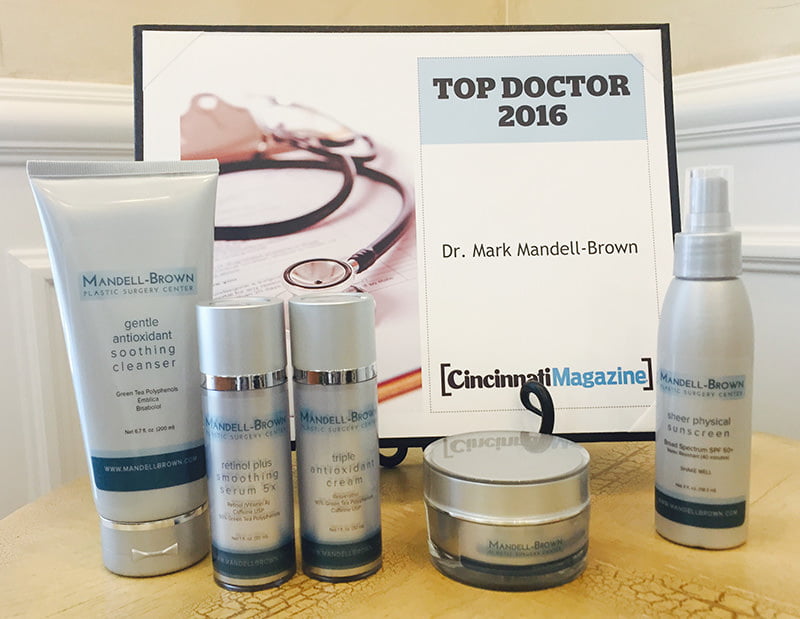 We are excited to announce Dr. Mark Mandell-Brown, after 30 years in the business, has developed his own skin care line.
Dr. Mark Mandell-Brown, Cincinnati, Ohio's only triple board certified cosmetic surgeon, was named "Top Doc" in breast augmentation and rhinoplasty in 2014 and 2015 in Cincinnati Magazine. In 2016 and 2018 he was voted "Top Doc" in breast augmentation and facelift surgery. In 2003, 2007, 2010, 2011, 2012, 2014, 2015, 2016 and 2017 Dr. Mandell-Brown was voted Top Doc for both Cosmetic Plastic Surgery and Reconstructive Plastic Surgery in poll of 5000 Tri State physicians conducted by Cincinnati Magazine.