What Makes Radiesse Different from Other Fillers?
Published on April 30, 2019 by
Mark Mandell-Brown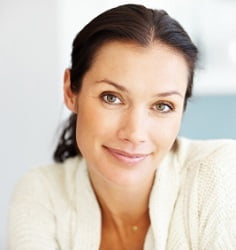 A filler is not just a filler. Although they are expected to do the same general job – remove, reduce, or prevent the signs of aging – fillers differ from one another in many ways. Radiesse is a unique filler that has been on the market for some time now.
Trying to decide whether Radiesse is the right filler option for you? With a variety of fillers to choose from, what makes Radiesse stand out?
Radiesse
Like other fillers, Radiesse plumps up the skin and reduces the visibility of wrinkles. It is a highly potent product that immediately creates volume and smoothes the skin, creating instant results.
Radiesse is made up of a different material than other fillers, and this is part of what makes it so unique. Most of the well-known fillers are made up of hyaluronic acid, which acts on wrinkles by attracting and locking in moisture to create volume.
Radiesse is instead made of calcium hydroxylapatite (CaHA) microspheres suspended in an aqueous gel. The CaHA microspheres create a framework in the skin tissues, and this increases the volume of the skin.
CaHA is a natural substance the body uses to create collagen. Because of this, supplementing the body's CaHA supply using Radiesse also stimulates the production of natural collagen, which eventually takes over the volume-creating role of the microspheres as they break down.
Because it encourages collagen production, the filler is quite long lasting. The results can be seen long after the product has been naturally filtered out of the body.
How Does Radiesse Compare with Other Fillers?
Well-known fillers such as Juvederm can be used on thinning lips, creases around the eyes, and fine to moderate wrinkles. Radiesse, on the other, works on moderate to severe wrinkles. It can also fill certain scars and depressions. It is injected into the deeper tissues and fills larger spaces than other fillers.
Along with being able to reduce moderate and deep facial wrinkles, Radiesse can also be used to treat the backs of the hands, which are prone to developing wrinkles with age. This is not the case with most other fillers.
Getting FDA approval is a rigorous process, but Radiesse is one of the few fillers that has been approved by the FDA because of its high quality and safety. It also contains lidocaine, a local anesthetic that eases the pain of the injection.
The effects of Radiesse last longer than a year, while some other fillers lose their potency after a few months. Unlike other well-known fillers, it is not immediately reversible.
Is Radiesse for You?
At the end of the day, everyone's needs are unique – just like all fillers are unique. With a vast array of fillers available on the market today, it can be hard to make an informed decision on the best filler for you.
To discuss the pros and cons of Radiesse and other fillers, contact the office of experienced plastic surgeon Dr. Mark Mandell-Brown for a consultation. He will examine your face, listen to your aesthetic needs and goals, and recommend the optimal course of action.