Cutera Lasers for Skin Revitalization & Resurfacing: excel V & Genesis
Conveniently Located to serve Cincinnati, Dayton, Centerville, and Louisville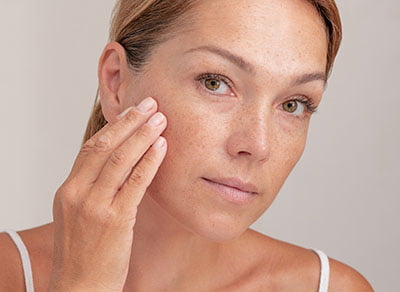 Address your wrinkles, scars, and redness with Cutera lasers, particularly laser treatments like excel V and Laser Genesis. Get rid of acne, large pores, brown spots, and other skin problems using these non-invasive methods. The laser can heat the upper dermis, improving the appearance of wrinkles and other issues. Try Cutera lasers in Cincinnati at the The Plastic Surgery Experts at the Mandell-Brown Plastic Surgery Center.
What Are Cutera Lasers?
You can choose excel V from Cutera to treat rosacea, skin redness, leg veins, facial veins, angiomas, periorbital veins, wrinkles, poikiloderma, and venous malformations. It can also address benign pigmented lesions, bruising, inflammatory acne, scars, age spots, and acne scars.
On the other hand, you can count on Laser Genesis from Cutera to treat acne and the redness and scars that acne usually leaves behind on your skin. It uses 1064 nm laser light to heat the targeted areas of the skin, killing acne-causing bacteria while relieving early scars and redness. The laser also stimulates production of collagen protein to tighten the skin and restore structure.
Am I a Good Candidate for Cutera Lasers?
The best candidates for Cutera excel V are men and women suffering from uneven pigmentation and vascular problems. They include those who want their leg, facial, and spider veins treated. However, those who are getting skin cancer treatments or are pregnant should not undergo this laser treatment.
The most suitable candidates for Laser Genesis from Cutera are people of any skin type with fine lines, rosacea, acne, textural irregularities, and large pores. However, like with any laser treatment, Laser Genesis is not recommended for pregnant women.
"
I absolutely had an incredible experience
"I absolutely had an incredible experience. A lifechanging experience, and completely due to the professionlism, artistry and warmth of the entire staff.
– Anonymous
Your Cutera Laser Treatment Consultation
During the consultation, you will be asked about the skin problems that you want to address. We will also use the consultation to determine what specific laser treatment you will need based on your skin goals and needs. We will explain the benefits and risks of getting Cutera laser treatments to address your skin concerns.
The Procedure
The excel V laser treatment usually lasts 15 to 30 minutes without topical anesthesia. The handpiece will be placed over the target areas until the red, abnormal vessels start to disappear. The device has a cooling mechanism to make the procedure more comfortable.
The Laser Genesis treatment is usually described as getting warm sunshine on your face. It only takes 30 minutes or less to complete.
The Recovery Process
After getting excel V, you may experience swelling or redness for a few days. You can still wear makeup as you recover. You may notice improvements a few weeks after the procedure. If you want optimal results, you may need one to four sessions.
You may notice redness after getting Laser Genesis, but it will disappear after a few hours. No downtime is required, but you must come in for multiple treatments to get the desired results. You may notice the results after four weeks or so.
How Much Do Cutera Laser Treatments Cost?
The cost of Cutera laser treatments depends on factors like the severity of the condition being treated. Minor conditions that only require a single session cost less than those that affect a larger portion of the skin and need multiple sessions. You can learn more about the price of the treatments during the consultation.
Book an Appointment
Treat wrinkles, acne scars, pigmentation, and redness with Cutera lasers in Cincinnati. You can get the results you want without undergoing invasive treatments. Contact us to schedule your consultation today!
Related Procedures