Improved Techniques for Eyelid Surgery
Published on June 17, 2012 by
Mark Mandell-Brown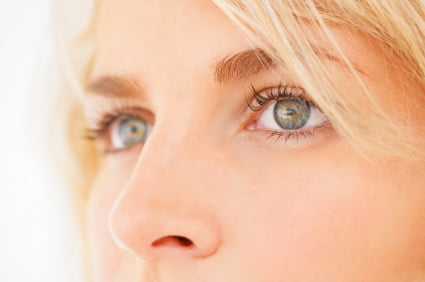 The highly popular eyelid lift procedure is now being enhanced by the use of an improved surgical technique. Details of this new development in facial cosmetic surgery are discussed in this article in The Wall Street Journal's MarketWatch.
The eyelid lift, or blepharoplasty, treats one of the most common complains of facial aging: excess fat in the eyelids that contributes to an aged and weary expression. This extra fat accumulation is carefully removed to address the individual concerns held by patients of both sexes.
Eyelid Lifts Bring Youth and Alertness to Eyes
"Traditionally, surgeons performing blepharoplasty (eyelid surgery) have made a horizontal incision running the entire length of the upper eyelid in order to reach and remove the medial fat pad," explains Dr. Sheila Barbarino, the doctor responsible for the original medical journal article.
"Dr. David Morrow's method, which we have now performed on 979 patients, allows us to remove the fat pad through a 3-4 mm oblique stab incision. This safe, time efficient and minimally invasive procedure yields excellent outcomes with a far smaller scar."
Some of the additional benefits of the new technique include:
Greatly improved efficiency, with average procedure times of around fifteen minutes
High patient satisfaction rates over many years
No additional complications reported for this technique
Easily performed under local anesthetic with no need for complete sedation
This technique is intended specifically for the upper eyelid. Various other procedures should be used for the surgical treatment of excess skin and fat on the lower eyelid. Treatment of upper and lower eyelids may be done in one surgical session or two. This technique is often combined with other procedures, such as face lifts, brow lifts or Botox injections.
Originally released in The American Journal of Cosmetic Surgery, this new technique will be likely to have an impact on eyelid lifts worldwide. The AJCS is the official publication of the American Academy of Cosmetic Surgery.