Transgender Breast Surgery
Conveniently located to serve Cincinnati, Dayton, Centerville, and Louisville

Are you looking for a skilled and experienced surgeon to perform your transgender breast surgery? Increasingly, patients with gender changes seek Dr. Mark Mandell-Brown's expertise with breast enhancement surgery or breast reduction (top surgery) The Mandell-Brown Plastic Surgery Center caters to chest procedures and facial surgery for both males transitioning to females or females transitioning to males. Dr. Mandell-Brown is dedicated to providing our patients with personalized and natural-looking results from their transgender breast surgery in Cincinnati.
Transgender Male to Female Breast Enhancement
For breast enhancement surgery, Dr. Mandell-Brown is acclaimed as the best cosmetic breast surgeon in the Cincinnati, Dayton, and Northern Kentucky Tri-State. Cincinnati Magazine Doctor's Poll and Cincinnati CityBeat Magazine Readers Poll.
Personalizing Your Male to Female Breast Enhancement
The patient may select either saline or silicone implants based on preference and anatomy. Dr. Mandell-Brown uses trans-axillary or infra-mammary approaches to place the implants. During the consultation, he will review the implant type and the approach with the patient for an individualized approach.
Preparing for Your Procedure
Routine lab work and history and physical are required prior to surgery. The Center also recommends clearance through the treating endocrinologist and/or psychologist.
The procedures can be performed at the Mandell-Brown Plastic Surgery Center which is state-licensed and accredited by the Accreditation Association for Ambulatory Health Care (AAAHC). The patient has the amenities of the hospital but the added privacy of a surgery center.
Recovering from Your Male to Female Breast Enhancement
During your recovery, Dr. Mandell-Brown can let you know what to expect during your recovery. Our team will also provide you with post-operative instructions following your male to female breast enhancement surgery in Cincinnati.
Male to Female Breast Enhancement FAQs
Q. If I am a padded "A" cup, is it possible to be a "D" cup?
A. Definitely implants can be selected with a cup size in mind. Silicone implants are 150cc to 800cc. Saline implants also have an 800 cc for the largest size but this can be filled more depending on the patient's goal. The skin and muscle will stretch to accommodate the implant and this may take some time after surgery.
Q. Is there much pain with the breast augmentation?
P. We find that the transgender patient may experience more pain due to the amount of expansion of the skin. Usually, the pain dramatically improves by the third to fourth day after surgery. Pain medication and muscle relaxant medication will help.
Q. Can you create a round, breast look?
A. We are known for a "Natural Look" but we can create the large round 'Fake' breast look as well as a natural sloped breast lo
Transgender Female to Male Chest Surgery (Top Surgery)
More patients with identity changes are seeking gender-affirming surgery. In several recent studies, gender-affirming surgery has increased 20% over the past several years. Currently, 0.6% of US adults identify as transgender. Dr. Mandell-Brown offers masculinizing top surgery for the transgender female patient desiring a male chest.
Options for Female to Male Chest Surgery
There are two types of masculine chest surgery—mastectomy or ablative procedures or gynecomastia type procedures. Chest masculinization has been shown to improve body image and decrease emotional anguish.
For most patients, this protocol is followed by many physicians.

Chest Wall Masculinization in FTMT Morselli et al Annals of Plastic Surgery Vol 83. 6, Dec 2019
However, Dr. Mandell-Brown emphasizes liposuction and less incisions when possible. He performs aggressive breast liposuction as the breast is often 70 to 80% adipose or fatty tissue.
For patients who have excess skin, a circumareolar or incision around the areola is required. An outer circular incision is made and the skin between the two circles is removed thus tightening the breast and flattening the appearance.
Some patients with large pendulous breasts require a vertical mastopexy, also known as the "lollipop" incision often with an anchor incision. Rarely will Dr Mandell-Brown perform a free nipple graft as the patient has a 100% chance of no sensation in this area.
Determining nipple location for the male.

Three-Step Technique for Optimal Nipple Position in Transgender Chest Masculinization – Ayyala et al Aesthetic Surg J. 40 (11) 2020
The male NAC (Nipple Areola Complex) is 36% size of female
Male nipple is located inferiorly and laterally
Horizontal component determined at 4 th rib near lateral border of Pectoralis Muscle.
Vertical component of NAC is confirmed at junction of middle and lateral third
Symmetry confirmed by creating a triangle
Photo Gallery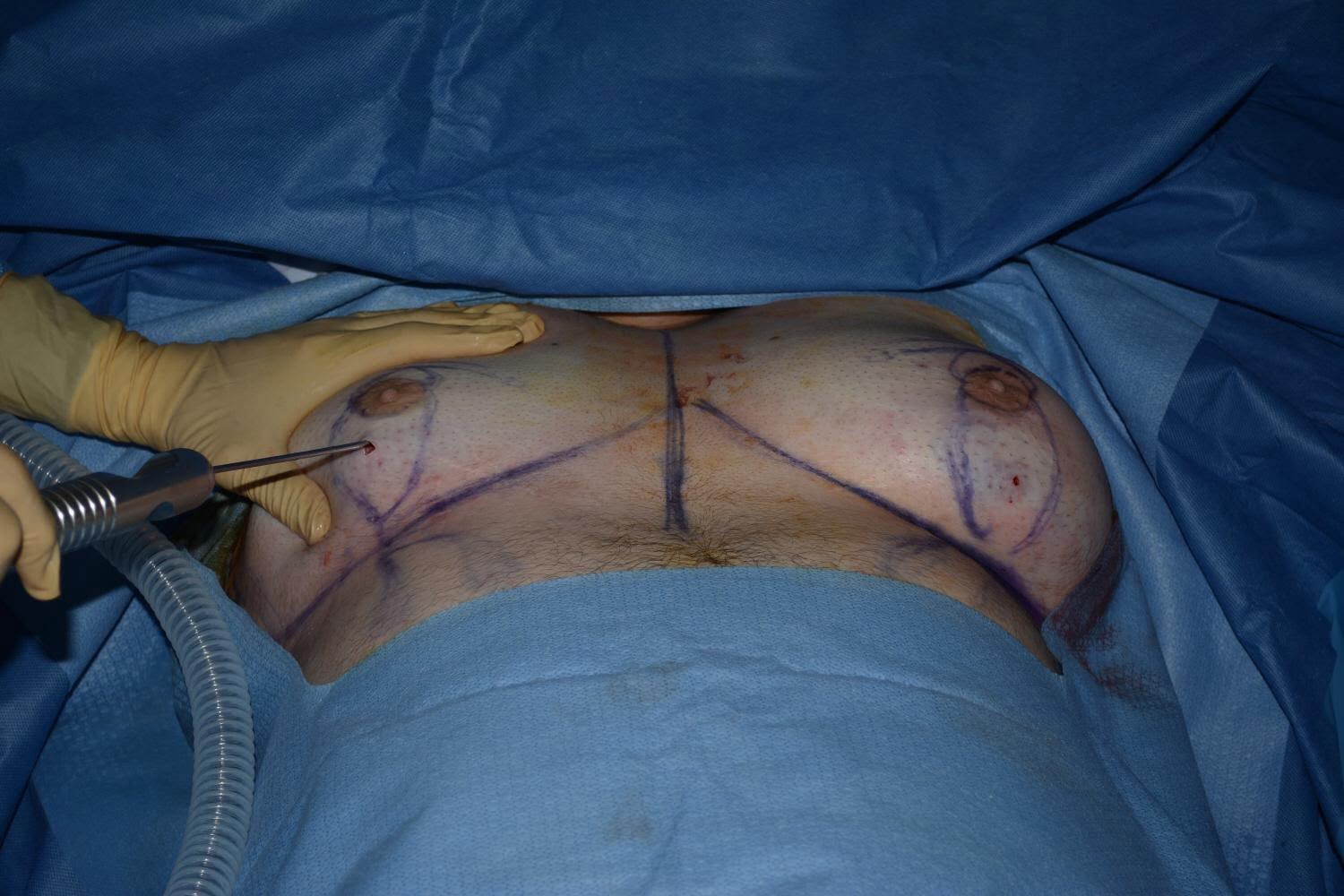 Liposuction performed by Dr. Mandell-Brown to reduce the breast volume. The purple lines show the "ice cream cone" skin that will be removed to masculinize the chest.
In the Media
Aesthetic Authority – Summer 2021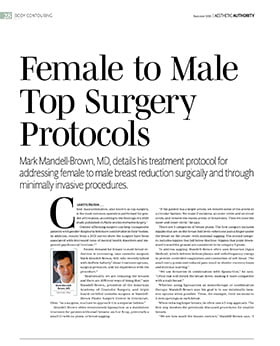 Mark Mandell-Brown, MD, details his treatment protocol for addressing female to male breast reduction surgically and through minimally invasive procedures. Click here to read Dr. Mandell-Brown's article "Female to Male Top Surgery Protocols" in the Summer 2021 issue of Aesthetic Authority.
Recovering from Your Female to Male Chest Surgery
During your consultation, Dr. Mandell-Brown can let you know what to expect during your recovery. Our team will also provide you with post-operative instructions following your female to male chest surgery in Cincinnati.
Cost and Payment Options
The cost of your transgender breast surgery in Cincinnati can be discussed during your consultation. Price will be determined by the type of procedure performed and other variables.
Schedule a Consultation
Contact The Mandell-Brown Plastic Surgery Center today to schedule a consultation for your transgender breast surgery in Cincinnati.
FAQs
Q. I've been considering gender reassignment for some time. Where do I start?
A. There are both adolescent and adult specialists who can help the individual embark on this journey. We typically see patients after they have started hormone therapy, counseling, and are ready to take the surgical step.
Q. How painful is a breast reduction? What is the recovery?
A. We find that patients actually have less pain or discomfort than a breast augmentation. Typically, pain pills are used for a few days. Most of our patients return to work in two weeks.
Q. Does insurance cover these gender changing breast surgeries?
A. At the Mandell-Brown Plastic Surgery Center we have adopted policies that we are fee for service. Therefore, we do not accept insurance. However, some of our patients get the appropriate billing codes from us and seek direct reimbursement from their insurance provider.
Related Procedures