Breast Augmentation
Conveniently Located to serve Cincinnati, Dayton, Springboro, and Louisville
See before and after photos of breast augmentation
Dr. Mark Mandell-Brown, Triple Board Certified Cosmetic Surgeon
Voted "Top Doctor" for Breast Augmentation in Cincinnati Magazine, January 2016 by Tri-State Physicians
If you are considering breast augmentation in Cincinnati, aesthetic judgment, surgical skill, and experience are critical. Dr. Mark Mandell-Brown can help you plan which surgical approach and implant is best suited to give you a more pleasing appearance. With our mini-incision approach and quick healing, you may wonder why you did not consult him sooner.
What Is Breast Augmentation?
Breast augmentation is a surgical procedure to increase the size of the breasts. It is also referred to as augmentation mammaplasty. This cosmetic surgery can also correct asymmetrical breasts.
Breast enlargement can enhance the balance of the contours of the body for a voluptuous appearance. A breast augmentation surgery cannot correct drooping breasts, but it can be combined with a breast lift to improve projection and fullness.
Am I an Ideal Candidate for Breast Augmentation?
If you want to get bigger breasts, then you may be a good candidate to undergo breast augmentation surgery. If you feel like one of your breasts is smaller than the other, you may be also recommended for this procedure.
Since this form of breast enhancement is an invasive procedure, it is important that you are in good overall health. Ideally, you are a non-smoker or are willing to quit several weeks before the actual surgery.
Dr. Mandell-Brown's Breast Augmentation Approach
An individualized approach to breast enlargement is essential to obtaining a good result. At the Mandell-Brown Plastic Surgery Center in Cincinnati, significant time is spent listening to the patient, educating the patient about their options, and reviewing the aftercare.
Our results are determined by not only what the patient wants, but also what her tissues will allow. Since no two patients are the same, the key to a satisfied patient is good communication between the patient and the physician.
Dr. Mandell-Brown prefers that all patients do "homework." For their consultation, they are requested to bring in photos of subjects with breasts that are too large, breasts that are too small, and breasts that they would like to have. Additionally, patients are instructed to wear a bra the size they desire with stuffing, in order to get used to the new size.
Dr. Mandell-Brown will discuss your medical history with you, especially past surgeries, underlying conditions, and current medications. It is crucial that you have no circulatory problems or other illnesses that would hinder proper healing.




More breast augmentation information:
Why You Should Choose Dr. Mandell-Brown For Breast Augmentation
The Mandell-Brown Plastic Surgery Center is the only free standing center in Cincinnati equipped with general anesthesia and dedicated completely to cosmetic surgery. The patient truly has privacy as well as the safety of a AAAHC accredited and state of Ohio licensed surgery center.
With Dr. Mandell-Brown's excellent staff to help guide you through your care-no wonder Dr. Mark Mandell-Brown was voted a "Top Doc" in plastic surgery in 2003, 2010, 2011 and 2012 in Cincinnati Magazine and "Top Doc" in breast augmentation in a poll of 5000 area doctors in 2007, 2013 and 2014, 2015, 2016.
The Procedure
Breast augmentation surgery begins with the administration of anesthesia. Then the incisions will be made. Depending on the treatment approach, the incisions will be created along the crease under the breast, around the areola, or in the armpit.
The breast implants will then be inserted and positioned to achieve the desired results. Finally, the incisions will be closed with sutures, and the chest will be bandaged.
Recovery After Breast Augmentation Surgery
After your surgery, you might need several weeks for your recovery period. You will be required to wear a surgical bra to lessen the swelling. Pain medications may be prescribed to help with the discomfort. Bruising, soreness, and bleeding may be experienced but should disappear in the next several days.
Strenuous activities and heavy lifting should be avoided for the next four weeks. You may be able to get back to work after a few weeks depending on the recommendation of Dr. Mandell-Brown.
Breast Augmentation Cost
The cost of breast augmentation surgery varies from one patient to another, because each treatment plan is tailored to address specific concerns. The overall price will include anesthetic and surgical fees, as well as any additional procedures performed.
Contact Us
Improve the size of your breasts with breast augmentation in Cincinnati. If you live in the Dayton, OH, Cincinnati, OH and Kentucky area, please schedule your breast augmentation appointment by calling The Plastic Surgery Experts at (513) 984-4700 or email Dr. Mandell-Brown today.
Patient Testimonials: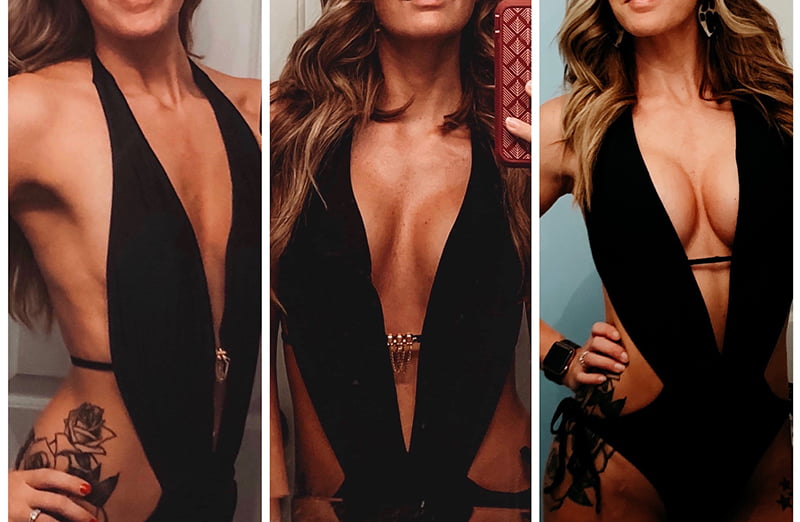 Dr Mandell – Brown — thank you for changing my life!! I am forever grateful!
You deserve an award for "Natural Look "
Before: 2 months | After: 9 months
"Beginning at a young age, I was always involved in sports. I love being outdoors. However, ever since puberty, my breasts never felt fully developed. I had low confidence because it seemed they never properly fit into bras, bathing suit tops, and dresses. I didn't know if it was possible to still be an athlete, but have a full feminine figure at the same time. During my consultation, my Mom was by my side as Dr. Mandell-Brown spent extra time with full transparency of expectations, risks and potential outcomes. I knew I couldn't have chosen a better place. As an athlete himself, he made me feel comfortable and the most confident I have ever been. The staff reminds me of family. I am 24 years old and would highly recommend that other women my age who feel uncertain about cosmetic procedures seek out Dr. Mandell-Brown's help and guidance." -Anonymous
"I feel happy! I don't know how Dr. Mandell-Brown managed to get so many genuine nice people into one building. I'm trying to figure out how to praise you, him and the rest of the staff all over the internet.
You of course have been the most patient and helpful. I really mean that. And I did brag on you today; but you know what?? They already know you are wonderful. I just wanted to thank you again. I am so glad I found this office!" -Anonymous
"My experience with Dr. Mandell- Brown has been nothing short of FABULOUS! I had breast augmentation done in June of 2009 with another plastic surgeon. In my case, this was a BIG mistake. When it became obvious that I was going to need revision surgery, I started looking for a new surgeon, and I found Dr. Mandell-Brown. From that very first day, I knew I was valued, and he and his staff treated me as such. I had my revision surgery in January, 2010, and the results are AMAZING! I am so pleased with how I look now, and my self-confidence is through the roof. Be smart and go with Dr. Mandell-Brown first!" -L.W.
"I can't believe how easy Dr. Mandell-Brown made the process. I can honestly say that I was in no pain from surgery. It was a little uncomfortable, like an Ace bandage around me. My new breasts feel wonderful. My clothes fit better and putting on a bathing suit was how I always wanted to look at the beach. Thank you, Dr. Mandell-Brown, I only wish that I had done this sooner." Brenna Porter
"I traveled from Maryland to Cincinnati to have breast implant surgery by Dr. Mandell-Brown. The pain for the first 4 days was worth it. I love my new appearance and my breast implants are perfect for me. The nursing staff at the Mandell-Brown Plastic Surgery Center was especially wonderful. They made me feel so safe and secure and their attention to detail is superb." – Charlotte O.
"My daughter's breasts look fabulous. At first I did not think she needed the surgery. But after seeing Dr Mandell-Brown's work "her breasts look so natural" Mary D.
"I see a lot of women with implants at my job. But I am always impressed when I see Dr Mandell-Brown's patients. They look the best of any doctor I've seen in the Tri-State¦.In fact, I want him to do my breasts" local mammography tech
"In my decision to get a breast augmentation, I knew I wanted someone who was perfect for me. If I couldn't find that, I wasn't going to go through with it. I started to research plastic surgeons in the Cincinnati area and narrowed them down based on criteria such as years experience, credentials, and even malpractice suits! I came down to two surgeons who I felt were the most qualified and consulted with them both. After that, I knew I wanted Dr. Mandell Brown. In retrospect, I am glad I did all of this research and work. I don't think anyone could have done a better job. I am 100% satisfied with the result as well as the treatment I received in being his patient. He even gave me his cell phone number in case of an emergency. That is dedication!" Bree