Traditional Liposuction vs. Laser Liposuction
Published on April 24, 2013 by
Mark Mandell-Brown
Individuals interested in reducing body fat through surgical methods once depended on traditional liposuction procedures. However, laser liposuction is transforming this procedure into a more streamlined solution. Those interested in choosing the laser version of liposuction may be concerned with the effectiveness of this form of surgery. Here is a look at the health benefits associated with both liposuction procedures. Dr. Mark Mandell-Brown – a Cincinnati, Ohio facial plastic and body cosmetic surgeon, uses all modalities of liposuction but prefers traditional liposuction over the laser and ultrasound techniques.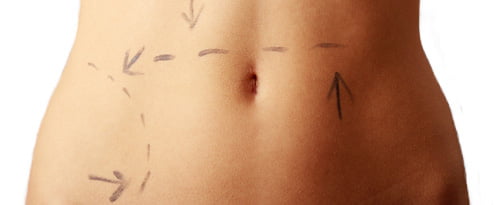 The Traditional Liposuction Procedure
Patients who seek liposuction are interested in reducing their body fat while firming their physique. If performed properly, the liposuction creates a much improved shape and gets rid of excess fatty areas. The skin shrinks from the liposuction itself. This technique is the safest. According to many authorities, the traditional liposuction tightens the skin as much as laser liposuction. Although laser liposuction procedures are receiving the most press in magazines and TV shows like Dr. OZ, some physicians believe the additional costs of laser liposuction aren't worth the risk for laser or ultrasound burns to the skin.
The Latest in Laser Liposuction
Laser liposuction incorporates the precision of laser technology with a procedure that both removes fat cells but also firms skin tissue leaving patients with questionable tight skin. With laser liposuction, patients STILL require traditional liposuction with the metal cannulas. The plastic surgeon then performs laser to the under-surface of the skin. The fat cells are melted down; so that when they are sucked out of the body they are much smaller in size, which is less taxing on the body. Once the fat is removed, a different type of laser is used to "artificially burn" the skin cells. This stimulates collagen production, which causes the skin to firm into place. Is the extra step worth it? According to Dr. Mandell-Brown, the approach needs to be individualized for each patient.
A Liposuction Experiment
To test the differences in results between traditional and laser liposuction, 2,183 patients ages 17 to 73 committed to tests. Seventy-five percent of the individuals were female. This study investigated the results of patients who underwent liposuction and laser-assisted lipolysis from February 2009 to July 2012. The targeted areas of the procedures were love handles, belly, breast, neck, arms, calves and thighs. Measurements documenting the before and after weights, skin tightness and diameters of the treated areas were taken. According to the study, all of the patients saw improved fat reducing and skin tightening.
If you are curious to whether laser liposuction will benefit you physically start by noting that this medical procedure is approved by medical associations for its safety and effectiveness. Through the precision of lasers, you can have your excess fat removed quickly from your body. As always, consult Dr. Mandell-Brown to weigh the pros and cons of this procedure.