Skin Care Products Cincinnati
Skin Medica – TNS
Improve your skin's texture and elasticity while at the same time protecting it from environmental aggressors. Nouricel-MD is the key ingredient in Skin Medica's product line, effective in assisting the body's natural process to fight skin aging. A combination of blended growth factors and proven recovery compounds work below the skin surface to regenerate the health of your skin. Your skin develops that youthful glow and feels soft, subtle and smooth's the look of healthy skin.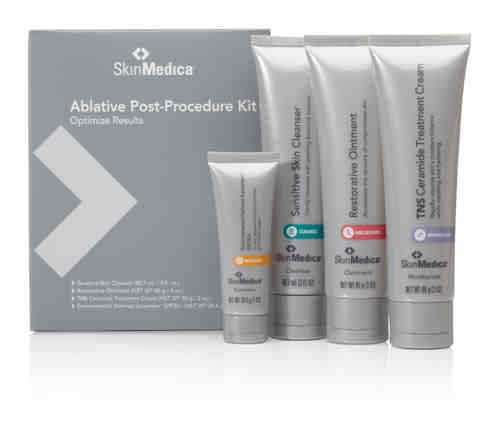 Popular Skin Medica Products
TNS Essential Serum
One of Casey's favorites, this all-in-one anti-aging product improves the appearance of fine lines, wrinkles and the overall tone and texture of skin.
Tri-Retinol Complex
Three forms of vitamin A in a microparticle delivery system enhance skin texture through exfoliation and skin regeneration.
Dermal Repair Cream
This ultra-rich cream intensely hydrates and replenishes moisture to dry skin with high levels of lipid soluble antioxidants, vitamins C and E.
TNS Ceramide Treatment Cream
This product includes a patented blend of growth factors and peptides to effectively moisturize restore balance. It's also great for restoring hydration after your cosmetic procedures.
Helps promote wound healing and skin repair
TNS® and Ceramide technology restores moisture balance after cosmetic procedures
Restorative Ointment
Skin Medica Restorative Ointment protects the skin and accelerates healing after ablative procedures like laser skin resurfacing or deep chemical peels.
Sensitive Skin Cleanser
With soothing botanical extracts, Skin Medica Sensitive Skin Cleanser gently cleanses your sensitive skin. Because it contains anti irritants and botanical extracts, it works well for inflammation that often occurs after skin renewal procedures. It's gentle, yet effective; this cleanser thoroughly removes oil, dirt, pollutants and makeup.
TNS Illuminating Eye Cream
There are many products designed to treat fine lines and wrinkles around the eyes, but few of them work as well as Skin Medica TNS Illuminating Eye Cream. By applying this product to the skin beneath your eyes, you can visibly reduce fine lines and dark circles. It's safe for all skin types and gentle enough for daily use.