Face and Body Fresh Cadaver Workshop
Published on December 17, 2014 by
Mark Mandell-Brown
You're Invited to Attend our Special Pre-Conference Workshop
We invite you to join our Face and Body Fresh Cadaver Workshop during the pre-conference for the AACS 31st Annual Scientific Meeting in New Orleans. This all-day workshop will be held at the Louisiana State University Anatomy lab on Tuesday, Jan. 13, from 7:00am to 6:00pm.
Special features include focused lectures on: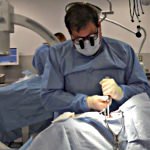 Facial cosmetic surgery, including topics on eyelid surgery, eyelid surgery complications correction, face lifts, fat transfers to face, facial implants, brow lifts and rhinoplasty.
Body cosmetic surgery will cover topics on breast augmentation with various approaches, breast mastopexy, breast reduction, abdominoplasty, lipoabdominoplasty, liposuction, thigh lifts, and fat transfer to buttocks.
Brief lectures will then be followed with fresh cadaver surgery.
Registration includes: CME credits, continental breakfast, lunch, transportation, course manual, one-on-one instruction from faculty member.
This is a unique opportunity to work with top experts in the field in a one-on-one setting. This course will enhance not only the beginner's skills but also provide the experienced surgeon an opportunity to perfect skills. We hope you will join us for this special event in New Orleans next month.
If you haven't yet registered for the 31st Annual Scientific Meeting, directly following our workshop, make sure to register soon. Advance registration ends on Dec. 31. Register for the 31st Annual Scientific Meeting now.