Permanent Makeup
Conveniently Located to serve Cincinnati, Dayton, Centerville, and Louisville
Permanent makeup is quickly becoming popular for those who wish to enhance their facial features, camouflage imperfections, or do away with the daily hassle of makeup application. You can have your lips, eyebrows and lashes enhanced in this relatively easy procedure. Other exciting permanent makeup applications include camouflaging of scars and uneven pigmentation, or reconstruction of the areola.
Permanent makeup is also referred to as micropigmentation, dermatography, permanent eyeliner, or cosmetic tattooing.
People pursue permanent makeup for reasons such as the following:
To save time or do away with the inconvenience of daily makeup.
To replace the appearance of hair in certain areas, especially the eyebrows, due to medical conditions like alopecia areata.
To correct uneven pigmentation (such as vitiligo) who want "color matching" done on their skin.
To visually reconstruct the areola in patients who have undergone breast reconstruction.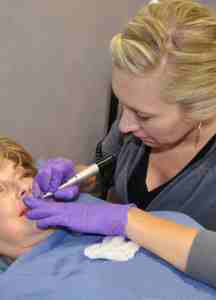 Nouveau Contour and Soft Tap techniques are available at the Mandell-Brown Plastic Surgery Center for permanent cosmetics. The Nouveau Contour 1000 is a new state of the art, hand machine for pin point accuracy of micropigment application. Soft Tap has been the gold standard for permanent cosmetics in which free hand application of permanent cosmetics is applied. During your consultation, our staff will help you decide which technique is best suited for you.
The procedure involves the implantation of pigment beneath the skin surface with special, sterilized needles. Lidocaine is often used to minimize discomfort. There are several colors available and many patients choose to undergo light pigmentation as an initial treatment. Then if desired, they return later for more pigment.
When performed by medical personnel, permanent makeup/micropigmentation is a safe, inexpensive, and satisfying procedure. Be sure to choose a practitioner with the proper tools, who also adheres to strict standards of sterilization.
Meet Ann Hanson, our Permanent Makeup Specialist
Ann Hanson is a registered nurse, first assistant and certified nurse for the operating room. She has over 20 years first assisting surgeons in a hospital as well as out patient surgery setting. She uses her fine motor skills and interest in cosmetics to provide state of the art permanent makeup application. She has trained in permanent cosmetics in San Antonio, TX and is certified to use Nuveau Contour.
Ann says, "I enjoy permanent makeup because it can make a huge change in people's lives. A little color can be a huge confidence booster. You can go boating, swimming, skiing, horseback riding, etc., without worrying that your "face" will come off. Many people suffer from severe allergies that prevent them from being able to wear any color. Permanent makeup is an answer for these people."
"Many women are undergoing chemotherapy and losing their eyebrows. For those who have lost their eyebrows, we can restore them. I can honestly say that I love making a change in someone's life with my career path. I love to see someone smile after their procedure while looking in the mirror. It's a relief to wake up with some color and not have to feel like you have to spend an hour putting a face on every morning."
Whether you're a stay at home mom, or a full time single business woman, permanent makeup is for everyone.
To make an appointment for permanent makeup, please call 513-984-4700.
Patient Testimonials
Nurse Anne did my lips today and they look so good!
She was very patient with me and listened to every thing I had to say about what i wanted. She made my lips plumper but kept the same shape. Everyone loves them and I've already got a lot of compliments today! I have no bruising and barely any swelling. I definitely recommend coming to Dr. mandells office and getting any fillers or other procedures done with nurse Anne. She is very caring, professional and sweet.
Like talking with a family member
We had a pleasant conversation about the procedure itself, what to expect, how it would change my appearance, the lack of pain involved, how to maintain the "new look." etc. Ann made me feel "at home," like talking with a family member.