Surgery in the Middle-East 'Booms'
Published on August 7, 2009 by
Mark Mandell-Brown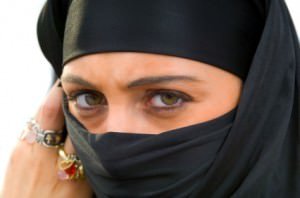 According to Associated Press columnist Donna Abu-Nasr, "cosmetic surgery is booming" in Saudi Arabia, despite religious conservatives that find the practice objectionable, and despite the ubiquity of the burqa – a long garment that covers arab women from head to toe.
Plastic surgeons in the region are apparently advertising on the front page of the newspaper, offering laser therapies, rhinoplasty, liposuction, or the increasingly popular procedure for men – the hair transplant.
One Saudi Arabian woman interviewed by the AP claimed that underneath the robe of a Saudi woman, you might find a "trendy haircut or designer clothes," so it seems that surgical enhancement isn't particularly radical after all. Wealthy Saudi women can "flaunt" their looks at "women's gatherings, [with their] husbands, or on trips abroad." Of course, that type of behavior doesn't come criticism-free, but that's an issue we wrestle with in America just as well.
That's what is striking about this entire conversation – the similarity it bears to the Western conversations regarding cosmetic surgery. While the religious front may be quieter regarding the topic on this side of the world, you might read comparable viewpoints from feminists. For example, Janice Turner's recent article for the Times Online basically slams cosmetic surgery, lumping it in with enterprises she believes are 'pornographic' or raunchy. Granted, there may be a narcissistic, or even raunchy side to our industry, but that shouldn't prompt a blanket ethical objection to it. Cosmetic surgery is supposed to empower the individual to control his or her own aesthetic; it should bring out or restore a person's ideal appearance – not attempt to alter their individuality or help them conform to some crude pop culture standard. If you read Ms. Abu-Nasr's piece, you should notice that the Saudi Arabian clergymen were wise enough to make this same distinction.