Social Media Popular for Obtaining Information on Cosmetic Surgery
Published on March 2, 2012 by
Mark Mandell-Brown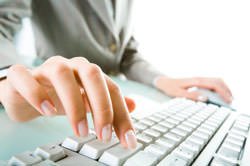 Social media is growing increasingly popular as a way for prospective patients to gather information on cosmetic surgery.
The survey, from the American Academy of Facial Plastic and Reconstructive Surgery, found that 42 percent of patients receive most of their information about cosmetic surgery from social media, such as Facebook and Twitter. It is a significant increase from 2010, when only 29 percent used social media as the primary way they learned about cosmetic surgery.
While almost half of patients (48 percent) still get information on cosmetic surgery mainly from their friends, this is down from 63 percent in 2010.
While social networking sites offers prospective patients a way to connect with other cosmetic surgery patients, consumers should be cautious and make sure they are getting their information from a reliable source.
Social Sites for Cosmetic Surgery Information
If you're not sure where to start, try the American Academy of Cosmetic Surgery's Facebook page, which often links to stories about cosmetic surgery and AACS's surgeons in the news, as does the AACS's Twitter feed.
RealSelf is another popular cosmetic surgery social networking site where users can find patient reviews of various procedures, and patients can connect with each other. In addition, many surgeons are active on the site and often answer users' questions.
You can follow the Mandell-Brown Plastic Surgery Center on Facebook and Twitter, where the latest specials and news of interest are posted.
Take advantage of what social media has to offer about cosmetic surgery, but be sure to schedule a consultation with a surgeon before you make any decisions, as a discussion with a qualified physician is crucial before undergoing cosmetic surgery.