Giving the Gift of Cosmetic Surgery? Proceed With Care
Published on December 7, 2009 by
Mark Mandell-Brown
As far as holiday gifts go, cosmetic surgery definitely falls in the "extraordinary"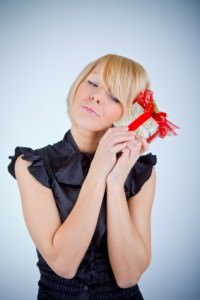 category. But it's not that uncommon.
We know some women who would much prefer a breast augmentation or mommy-makeover to the usual electronics and clothes that get exchanged each year.
"There are a large number of people who really want cosmetic surgery, and they just need that little nudge or incentive to get it done" says Dr. Mark Berman, President-Elect of the AACS.
However, Berman also offers some crucial advice for those of you considering this type of extraordinary gift: Make sure you've discussed the idea with the recipient so it doesn't come as a total surprise.
A consumer survey conducted by the American Academy of Cosmetic Surgery revealed that nearly 50 percent of consumers would forego an expensive vacation or even a luxury car to pay for cosmetic surgery.
I'd say those are pretty good odds that your gift will be a satisfying one.