When Men Can Benefit from Tummy Tuck Surgery
Published on February 15, 2010 by
Mark Mandell-Brown
Reading about tummy tuck surgery, you might mistakenly believe that only women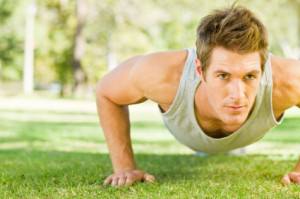 undergo the procedure. But in fact, males who have experienced dramatic changes in body weight are often good candidates.
It is unfortunate that such men hesitate to speak with doctors about this procedure. One man who documented his experience online said he even perceived a "stigma or shame associated with male tummy tucks," saying he was "initially embarrassed" when he first made inquiries about the operation.
A good surgeon will offer experience and specific advice about the tummy tuck on a male patient. In the online forum RealSelf.com, a man asks about abdominoplasty:
I'm dealing with loose skin after a 50 lbs weight loss in my teens. I've totally transformed and I'm very athletic with well-defined abs, but have [skin] laxity mostly below the navel and around the lower back. The problem areas are very localized and I hide it under the belt line with no one suspecting I was obese. But I feel "unfinished." The front skin is very thin and hangs, the back is mostly smooth. Is there a tummy tuck technique that would excise the abdominal skin and provide modest tightening in the lower back?
Virginia plastic surgeon Chris Hess, answers, "even though we (men) tend to have better skin tone than women, we can still end up with excess skin due to skin memory. It sounds like you could undergo a mild excision of the excess tissue – less than a mini tummy tuck."
However, in cases where the male patient has experienced a greater weight reduction, the full tummy tuck may be recommended. Dr. Angelo Cuzalina, an Oklahoma cosmetic surgeon writes "Do not hesitate to use a full abdominoplasty for a male patient with extreme skin laxity. Men tend to heal better than women after abdominoplasty."
A comprehensive approach such as this may be optimal in many cases to provide satisfactory results. "You really need to treat [men] circumferentially, all the way around, because if you ask most men what bothers them, it's the 'love handles,' and that goes all the way around to the back" said one doctor in the publication Cosmetic Surgery Times
Clearly, many plastic and cosmetic surgeons can offer specific advice for men considering abdominoplasty. If you think you might benefit from the procedure, don't hesitate to ask a qualified surgeon for more details.