Support RIDE FOR THE CURE and Get a Discount on Injectable Treatments! Now Through November 1st
Published on September 24, 2009 by
Mark Mandell-Brown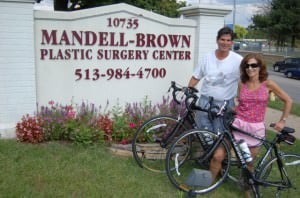 As we posted before, Mark and Marianne Mandell-Brown are participating in the Greater Cincinnati Chapter Ride for The Cure October 15-18, 2009. Marianne is riding 60 miles and Mark is attempting over 100 miles through Death Valley, California. Most importantly, it's for a great cause; we're trying to raise funds for research on juvenile onset diabetes.
Through November 1 of 2009, we're offering our patients a special deal on injectable treatments that will help fund the Juvenile Diabetes Research Foundation.
Contribute $25 to $100 and receive double discount on Botox, Dysport, or soft tissue fillers.  For example, write a check to Juvenile Diabetes Research Foundation (JDRF) for $25.00 and receive $50 off Botox, Dysport, or Soft Tissue Fillers of your Choice. Write a check for $100 and receive $200 off Botox, Dysport or Soft Tissue Fillers (Perlane, Sculptra, Juvederm, Radiesse)
Contact our office for more information on this great cause and this special offer!