Dr. Mandell-Brown Named Among Best Plastic Surgeons in Cincinnati
Published on January 10, 2011 by
Mark Mandell-Brown
In early January, Cincinnati Magazine released the 2011 results of a poll of 5000 Tri-State area physicians who vote to name the Tri-State area's best physicians in multiple categories.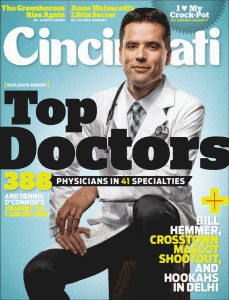 Dr. Mark Mandell-Brown, director of The Plastic Surgery Experts, was named "TOP DOCTOR" in plastic surgery. He has been consistently recognized for his plastic surgery and cosmetic surgery expertise in the Cincinnati Tri-State area. A leader nationally, Dr. Mandell-Brown holds annual seminars to teach other cosmetic surgeons breast augmentation, tummy tucks, and facial cosmetic surgery.
"Recognition by one's peers is the highest honor a doctor can achieve," noted Dr Mandell-Brown. "We strive to achieve a 'natural look' for our patients and treat each of them individually. Our goal is to help them look better, but not different." he added.
Doctors in the Cincinnati and Dayton area are uniquely positioned to recognize excellence. They see Dr Mandell-Brown's patients pre- and post-operatively for annual exams. These doctors also receive direct feedback from patients who have visited the highly acclaimed Mandell-Brown Plastic Surgery Center.
Plastic surgery procedures performed by Dr. Mandell-Brown include rhinoplasty (nose reshaping), face lifts, upper eyelid surgery, eyelid blepharoplasty, liposuction, breast augmentation, breast reduction, breast lifts, tummy tucks, ear reshaping (otoplasty) and brow lifts. Non-surgical treatments include Botox, Dysport, fillers like Restylane and Perlane, and laser skin resurfacing, and the Mandell-Brown Plastic Surgery Center offers full skin care treatment.