Eyelid Surgery (Blepharoplasty)
Conveniently Located to serve Cincinnati, Dayton, Centerville, and Louisville
See before and after photos of eyelid surgery
Restore your bright-eyed look with eyelid surgery (blepharoplasty) in Cincinnati and lift those drooping lids. Eyelid surgery, also known as blepharoplasty, is a surgical procedure that rejuvenates the beauty of the eyes by getting rid of loose and wrinkled eyelid skin and puffy bags underneath the eyes. At the Mandell Brown Plastic Surgery Center, we offer eyelid surgery for men and women in Cincinnati who are in need of surgical eyelid rejuvenation.
What is Eyelid Surgery?
"Bleph" comes from the Greek word for eyelid. "Plasty" is to shape or mold in Greek. During a blepharoplasty surgery, the plastic surgeon removes the excess skin and fat above or below the eyelids to rejuvenate the eyes.
Is Eyelid Surgery Right for Me?
Are your friends telling you that you look tired or fatigued? Do you have dark circles under your eyes? Or perhaps you have a difficult time putting on upper eyelid makeup because of the excess skin. Maybe you are getting forehead headaches or wrinkles because you elevate your eyebrows to see better. Perhaps you should consider eyelid surgery or blepharoplasty.
An ideal candidate is in good physical condition, has no circulation disorders, and is a non-smoker. If you have hypertension, chronic dry-eye syndrome, or glaucoma, you will need to discuss these with Dr. Mandell-Brown.
Your Consultation
Your consultation will involve an examination of your eye area. Dr. Mandell-Brown will look closely at the target area to determine the best approach for your blepharoplasty procedure. Tell Dr. Mandell-Brown about your goals and expectations when it comes to the outcome of your eyelid rejuvenation surgery.
The two of you will discuss your medical history so that Dr. Mandell-Brown can determine your physical health, any underlying conditions, and any current medications. It is also important to ask questions during your consultation so you can make an informed decision about your surgical procedure.
Options for Eyelid Surgery
Upper-eyelid surgery, also referred to as an eyelid lift or upper blepharoplasty, is a very gratifying procedure that in 45 minutes to one hour can make an incredible difference in your appearance. The incision is made in a natural crease and heals within one week. The excess skin and fat are removed.
In blepharoplasty surgery, the plastic surgeon removes the excess skin and fat to rejuvenate the eyes.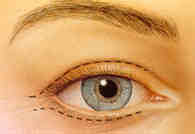 Lower-eyelid surgery, also known as eye bag surgery or lower blepharoplasty, can be performed through a skin (transcutaneous) approach or through a hidden approach inside the lower eyelid (transconjunctival). Our physicians will discuss the best approach for you during your consultation.
The transcutaneous or external approach requires an incision under the lower lid eyelashes. The advantage is removal of both excess fat and skin. The incision usually heals within one week but any residual redness may be covered with makeup after one week.
The transconjunctival or inside approach hides the incision inside the lower eyelid. Only the excess fatty bulges are removed with this approach. Many times the physicians at the Mandell-Brown Plastic Surgery Center in Cincinnati will utilize laser resurfacing to remove the lower eyelid creases and crows feet at the same time.
Patients with dark circles under their eyes may benefit not only from lower eyelid surgery to remove the fatty bulges, but they may require some bleaching creams or peeling agents to lighten the skin pigment. This will be discussed during your consultation.
Recovering from Eyelid Surgery
There is no pain following upper-eyelid surgery. Some swelling and slight bruising may occur but should subside over the coming days. Many patients return to work or light activities in two to three days.
The lower eyelid surgery usually produces some bruising that resolves quickly. Following our instruction will significantly reduce the bruising. With lower eyelid surgery there may be some discomfort, but this lasts only a few days.
You may also experience some soreness, which should disappear in a few days as well. Applying cold compresses will relieve discomfort. Make sure not to apply too much pressure on the treated areas and to keep your head elevated while sleeping.
During your blepharoplasty recovery process, it will be important to protect your eyelids as they heal, since they will be especially prone to sun damage for a time. You will need to apply the proper sunscreen, avoid excessive sun exposure, and wear sunglasses to protect from wind and pollution.
The Cost of Eyelid Surgery
For those patients with extremely heavy upper eyelid skin, insurance coverage may help with the cost of upper eyelid blepharoplasty. If the visual field is limited, insurance carriers may provide coverage. This can be determined at the time of your consultation and verified by an independent eye exam.
For patients who are undergoing blepharoplasty for cosmetic purposes, the price can vary based on the type of procedure performed and other factors. Financing options
Schedule a Consultation for Your Eyelid Surgery
Contact the Mandell-Brown Plastic Surgery Center today to schedule a consultation for your eyelid surgery. Dr. Mandell-Brown is a board-certified facial plastic surgeon who focuses on providing our patients with personalized care and natural-looking results. He strives to offer the best eyelid surgery Cincinnati has to offer.
More eyelid surgery information
Patient Testimonials:
"I feel happy! I don't know how Dr. Mandell-Brown managed to get so many genuine nice people into one building. I'm trying to figure out how to praise you, him and the rest of the staff all over the internet.
You of course have been the most patient and helpful. I really mean that. And I did brag on you today; but you know what?? They already know you are wonderful. I just wanted to thank you again. I am so glad I found this office!" -Anonymous